Why Pawan Hans, India's national carrier, has a disastrous safety record
There are only two reasons, reckons a former captain who flew choppers of the Indian Air Force, that any investigation into a helicopter crash in the country can come up with: pilot error or bad weather.
"90% of the time, the hapless pilot is crucified," says Sharma (name changed on request). "It's amusing to know that this time a 'sabotage' balloon is being floated," he fumes, alluding to the crash involving an ill-fated chopper of Pawan Hans off the coast of Mumbai on January 13, killing all seven on board.
Though preliminary investigation hint at sabotage — the possibility of flammable material in the cargo — nothing tangible is likely to come of it. Reason: 16 of the 21 crashes of the national carrier have been attributed to pilot error and the rest to bad weather.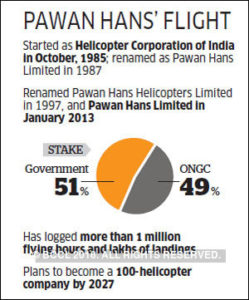 "Blood is on their hands," alleges Sharma, who worked for 16 years in India's biggest helicopter company, Pawan Hans, in which the government owns 51% and the rest held by state-owned Oil and Natural Gas Corporation.
"No heads would roll, and Pawan Hans will remain a flying coffin," laments the former pilot, who worked with the Air Force for over a decade. The most damning thing about the latest tragedy, he points out, is the fact that the chopper was on its first off-shore sortie after a two-week-long routine 'T' inspection, which is carried out after completing 600 hours of flying.
"Imagine a chopper crashing after coming straight from servicing."
Troubled History Pawan Hans' killer past is graphic: 67 deaths in 21 crashes since 1990. Every crash reinforces its tainted image.
"Pawan Hans is a dangerous company," says aviation expert Captain Mohan Ranganathan, who alleges that investigations after crashes involve cover-ups and nobody is held accountable. The chopper company is run by the government, which controls the aviation regulator DGCA.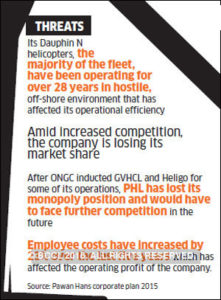 "Any other operator, anywhere in the world, would have lost the license to operate and the officials would have been sent behind bars," says Ranganathan, "But not in India."
The carrier's troubled history, point out experts, has a lot to do with its wretched beginning in October 1985, when it was formed as the Helicopter Corporation of India. Most of the two-dozen British Westlands inducted into its fleet started showing signs of trouble: engine problems, oil leakages and faulty sensors. Three years later, the company recorded its first crash in July 1988.
A Westland crashed in Jammu and Kashmir, killing all seven occupants. A month later, a Dauphin flew into the sea, killing eight passengers and two pilots. In February 1989, another chopper crashed. Next month, government removed 53 defective engines from the Westlands. In May, 10 more were removed prematurely.
In a 2015 corporate presentation by Pawan Hans, the company admitted to weaknesses it has been grappling with, be it industrial relation problems leading to business shifting to rivals or inability to adopt flexible management policies as it is a PSU. The list highlighted and gave an official stamp to all the ills that experts had been repeatedly pointing out over the last two decades. The presentation also underlined potential threats faced by the national carrier such as ageing fleet and losing market share.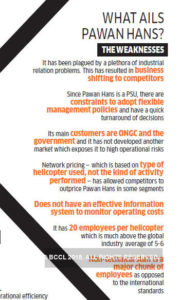 Blame Game Though the disease was diagnosed, nothing was done to fix the bug. But that has been a grim tradition. Pawan Hans ignored warnings from the Kaushik Committee report of 1991 and again when the committee revisited its recommendations in 2005.
In most of the cases where the investigations are over, the report pointed out, pilots are blamed for the accidents, a conclusion easily drawn from the available evidence. The accountability of the operator is never assigned, even indirectly. The operating conditions and other external factors are also not considered, the report observed.
While maintaining that suspecting the capability of the pilot and blaming him for the accident may not be incorrect, the report emphasised that the operator cannot evade responsibility for not ensuring proper conduct of recurrent training, maintenance of proficiency and competency of the pilot for the task. It is possible that commercial interest may have forced an operator to overlook or circumvent rules, directly affecting flight safety, a major factor in an accident, but may not be detectable during an investigation.
"Operators need to follow the laid-down rules judiciously and be conscientious of their responsibilities and accountability," the Kaushik Committee report concluded. "Since it is a sarkari company, it's debatable whether DGCA has the flexibility to be able to exercise adequate safety oversight authority over Pawan Hans," says Shakti Lumba, aviation industry veteran and former vice-president of Air India and IndiGo.
Since the company was never structured as an aviation company catering to civilian needs, public safety may not have been as important a criterion as it would be for an airline. Also, that the organisation is headed by an IAS officer and not a technocrat might have an impact on the way Pawan Hans works.

Lumba alleges that apart from the fact that an IAS officer doesn't have any knowledge or expertise on aviation, which could lead him to be more mission-oriented, cost cutting and a sharp focus on profit might put safety oversight or culture on the backburner.
"Most of the IAS 'babus' come for a picnic at PSUs and go back after a couple of years and have nil accountability," he says. Whether their tenure in the PSU is successful or not has little effect on their career path, he adds.
Lumba also rubbishes the theory of rotatory wing aircraft (helicopters) being less mechanically reliable than fixed wing aircraft due to their complexity. "It doesn't mean they are unsafe. Choppers are being successfully used globally," he says, adding that Pawan Hans' dismal safety record springs from aging fleet, high cost of maintenance and wear and tear of the choppers.
A serving Pawan Hans pilot, requesting anonymity, alleges another cardinal sin committed by the company: cost cutting at the cost of maintenance. While revenue dipped by Rs 77 crore between 2014-15 and 2015-16, profit fell by just Rs 2 crore. "How are they maintaining profitability when topline has been eroding?" he asks.
The company's balance sheet of the last five years lights up another grim statistics: maintenance as a percentage of total expenditure in 2014-15 is same as what it was in 2011-12 — 25%. While in FY 2011-12, it stood at Rs 108.57 crore, for 2014-15 fiscal, it spent Rs 119.88 crore: a paltry increase of over Rs 10 crore in three years.
"Look at the ageing fleet of Pawan Hans. The amount spent is barely enough to keep the fleet healthy," adds the Pawan Hans pilot.
Security Slip-ups
A dip in the headcount might have also helped the company in maintaining profit: employee strength was 799 in March 2016 from 869 in fiscal 2015. Though Pawan Hans maintains that it has a bloated headcount — 20 employees per helicopter, way above global industry average of 5-6 employees per helicopter — many serving officials contend that there is widespread discontentment among pilots and engineers due to huge salary disparity between what they and pilots in private airlines draw.
"Which airline company has flight allowance for every trip?" asks another former Pawan Hans pilot. "You want the pilots to do the quantum of work that an elephant does but at a donkey's salary," he grumbles. What has added to stress and resentment is the one-year notice period for pilots and six months for co-pilots if they wish to leave the job.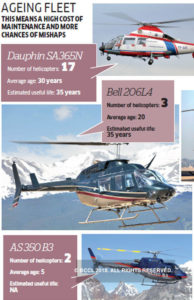 "Which company would wait for a year to hire you?" asks the above official, adding that the move implemented last August has badly affected pilot morale.
It's not only the staggering number of accidents that has put Pawan Hans under intense public scrutiny, there are other glaring security slip-ups as well.
In a span of just three years — 2014 to 2016 — Pawan Hans had 38 "incidents". The report, based on the findings of an RTI by an activist, defines an incident as an occurrence that could affect aircraft safety.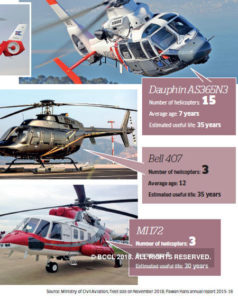 The highest number of incidents, the report added, were 17 in 2016, though number of flights operated per year came down from 1.06 lakh in 2014 to 78,856.
The callous disregard for safety is not confined to Pawan Hans. It is part of the government-owned company syndrome.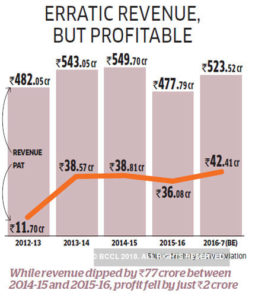 For Pawan Hans, there is an urgent need for a deep cleansing of the organisation and fleet. But that will have to start at the top. Only the government is in a position to radically reform the nation's biggest helicopter carrier before it crashes for good.